Summary rating from user's marks. You can set own marks for this article - just click on stars above and press "Accept".
Accept
FARO Focus 3D X130
Price:
Contact
Pros:
1. Incredible accuracy for its price
2. Supports a wide range of file types
3. Over 300 degrees of view field, which is a lot for a tripod mounted scanner
Cons:
1. Not handheld, so applications are slightly limited
Back to reviews
Visit website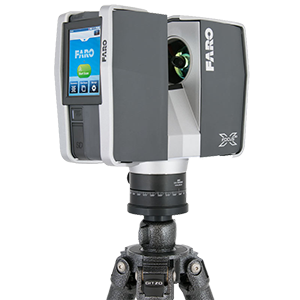 The FARO Focus 3D X130 scanner is one of the best we have ever seen in its class. An upgrade from previous models that didn't quite make our list last year, FARO has raised the bar quite a bit with two new models, the X130 and the X330, both of which make our lists of best 3D scanners in their respective price classes. The X130, which we will be focusing on in this review, is designed for a wide range of real-world applications, which makes this scanner one of the most versatile in its class, as well as relatively affordable compared to other scanners with the same sets of features and same quality of results.
FARO, a company based in Lake May, FL but having affiliated offices all over the world, was founded in 1981 with the mission of providing precise measurement technology for the medical field. They shifted their focus a few times since then and eventually, in the early 90's, repositioned the company to provide products primarily for industrial applications. What has resulted in the better part of that 30 years is a who's who list of customers in aerospace, automotive, motor sports, consumer goods, electric power generation and heavy equipment industries. Their dedication to precision and quality in their products has gained them praise from some of the biggest and most respected companies in the world, and the Focus 3D X130 is a continuation of that fine tradition.
When you have a product like the Focus 3D X130 that not only produces quality results but helps people understand more about their own fields, you begin to see the mark of true innovation by a company dedicated to being the premier supplier of measurement technology in the 2D and 3D digital world. Laser based scanning provides the cornerstone for that superb quality, which is depended upon to help airplanes and space shuttles operate properly, increase safety by recreating crash scenes and much, much more.
The FARO Focus 3D X130 has an incredible 130 meter (over 400 feet) range, broadening the applications to amazing proportions, but still limited slightly due to its fixed position on a tripod. It is very fast, however, capable of scanning at speeds of up to approximately 976,000 points per second. The accompanying 70 miopixel camera (1,000 x 1,000 pixels as opposed to megapixels, which are 1,024 x 1,024 pixels) rivals and even surpasses most professional quality DSLR cameras. A class one laser provides the power and accuracy necessary to achieve the long scanning distances without sacrificing quality.
The scanner also comes with multi-sensing capabilities, including a GPS, Compass, Height Sensor and Dual Axis Compensator. At only 5.2 kilograms (a little over 11 pounds), it isn't as easily portable as other moveable units, but still light enough to transport without too many problems, without being so light that it tips over easily in outside conditions. With all these features, as well as the others listed above, the FARO Focus 3D X130 scanner is a cut above the rest and deserving of the top spot on our list of iReviews 2015 best 3D scanners under $10000.
Related YouTube videos:
Embed: <a href="http://3d-scanners.ireviews.com/faro-focus-3d-x130-review"><img src="http://www1.ireviews.com/images/2015-iReviews-gold-badge.png" alt="FARO Focus 3D X130 iReview"/></a>