Summary rating from user's marks. You can set own marks for this article - just click on stars above and press "Accept".
Accept
M3DI SLS-SE
"Overall, the M3DI SLS-SE is a great buy. With three model options to choose from, your business has a great shot at finding the best tool for the job."
---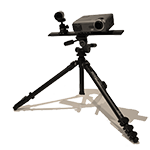 The M3DI SLS-SE is a flexible, easy to use, and cost effective solution to most of your 3D scanning needs. The scanner is capable of producing excellent scans with very high resolution. Since three versions of the scanner are available, you or your business get to choose which one fits your needs and budget. This accurate and highly-motivated scanner certainly deserves a spot in the iReviews top five picks for 2014 Best 3D Scanner under $10,000.
M3DI convicts itself with the goal of simplifying 3D scanning technology. Simplification of the scanning process allows you to spend more time on the applications involved with your scan, which makes your process a little more enjoyable. As experts in 3D scanning and developing technologies, M3DI offers its customers professional insight into projects, as well as enhanced engineering solutions and cutting-edge products. Services offered by M3DI include in house and on site 3D scanning, customer training, and custom development of scanning products to fit your company's exact needs. The company also offers support via ticket and email, as well as forums with answers to common questions and insight from other users.
The SLS-SE uses white light fringe pattern projection to accurately scan objects with much detail and miniscule error. A bright, 2200 lumen high resolution projector does the scanning, and a c-mount fixed focus lens detects and records nuances. The projector is a DLP (digital light processing) type, which is a proprietary system developed by Texas Instruments. DLP systems are used in many video projectors and some very large projection-style televisions. A processor controls a series of micro mirrors to project light as commanded, and develops sharp, stunning results in video applications, so it is a natural fit for processing structural light.
Structural light sensing is a rather efficient and speedy technology. The theory behind structured light is when a narrow band of light is projected onto a surface, the surface distorts the light band. The distortions in the band of light are picked up and interpreted by a scanner lens, which then reconstructs the surface, shape, and depth of the object being scanned. An improvement on structured light sensing is fringe pattern projection, which the SLS-SE employs to deliver faster, more accurate scans. Instead of projecting one narrow band of light, fringe pattern projectors project a pattern of many stripes of light at once, allowing for detection of a multitude of samples simultaneously.
The SLS-SE's scanning system comes as your choice of three different models. The SLS-SE1 is the basic model, offering 1280 x 1024 resolution with a 1.3 megapixel sensor. A 2048 x 1536 resolution and 3.0 megapixel sensor is available with the SLS-SE3. The highest resolution scanner in the line is the SLS-SE5, which boasts an excellent 2560 x 1920 resolution with a 5.0 megapixel sensor. Both SE1 and SE5 have USB 3.0 capability, whereas the SE3 uses USB 2.0. All three units come with a C-Mount 12.5mm fixed focus lens. The lens offers a field of view of 5in x 3.75in. x 1.87in to 30in. x 22.5in x 11.25in Of course, with M3DI's expertise, the company can develop a scanner especially for your specific applications and needs with a larger view availability, if needed. This lens also collects data with supurb accuracy, ranging from 0.005in to 0.010in. This prowess of high resolution and low distortion can help you capture intricate textures on the surface of your scanned objects, as well as keep large scans dimensionally accurate.
The tripod mounted scanner is 27in x 6in x 5in, and weighs 7lb. The tripod is heavy duty, and weighs an additional 5.3lb. Folded, the tripod is 23.2in in length, and extends to 69.3in. This tripod style setup can slightly limit your scanning abilities, as well as transportability, but with some ingenuity, these can be easily turned to your advantage.
Overall, the M3DI SLS-SE is a great buy. With three model options to choose from, your business has a great shot at finding the best tool for the job. Further, if you need a tool for a custom application, M3DI has you covered. This scanner is excellent for a wide array of applications, including reverse engineering, analysis, visualization, graphics, digital archiving, as well as others. The scanner allows you to export files as PLY and ASC formats for applications requiring geometry and color, and STL for geometry-only applications.
Flexibility of this unit is excellent, but the iReviews team is completely blown away by the SLS-SE's resolution and accuracy. M3DI's commitment to the 3D scanning industry and finding solutions for its customers is also very impressive. The SLS-SE is an excellent professional tool, and will be a good investment for your business. However, hobbyists and home users may find something a little more affordable that would fit their needs better elsewhere on our lists of 2014 Best 3D Scanners under $10,000.