Summary rating from user's marks. You can set own marks for this article - just click on stars above and press "Accept".
Accept
Rubicon 3D
Price:
$600
Pros:
1. Small footprint allows it to be placed anywhere
2. A very popular startup product.
Cons:
1. Only small objects can be scanned
2. Design looks a little more basic than other models in its class
Back to reviews
Visit website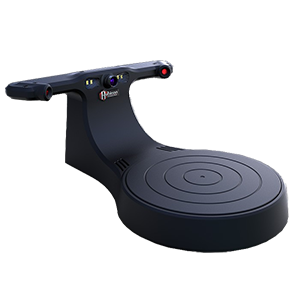 The Rubicon 3D is a 3D scanner designed with simplicity of design in mind, which lowers the pricing point significantly and puts most of the device's power into the software. The design of this scanner is slightly more rudimentary than we have been used to seeing in other models in the under $1500 price range. It is also new to the market, which means it hasn't had a chance to fully bear out the real world tests that are crucial in determining the true usability, durability and overall market potential of such a risky product. We found it to be promising nonetheless and believe it has enough potential to provide the home enthusiast on a budget a means to have a solid and dependable 3D scanner for smaller applications.
Rubicon Technologies, a company based in Latvia, is still relatively small and in the process of finding its footing in what will quickly become a very competitive market. In the case where a small company with limited resources wishes to have a piece of an industry, it becomes necessary to establish a niche, which is a very important corner of that market that provides that smaller company with a competitive edge. When a company has an extremely affordable product that is capable of producing similar results to others in its class that are often several times more expensive, the niche has been found, and all that remains is to see how well they execute marketing their product's strong points to the masses. That part will take time and testing.
What we do have in the meantime is a 3D scanner that is capable of quickly and accurately scanning a smaller object that is no bigger than 6 square inches. We also have a very powerful software tool that the company fully demonstrates on their YouTube page, one such video being available for viewing at the bottom of this page. The video completely walks you through the process of scanning and saving scans, as well as making adjustments to files and settings where needed. That software can also work with at least 8 different file types, from STL to XYZ, which makes it just about the most versatile tool you can find.
The speed and accuracy of the Rubicon 3D scanner are also decent. Depending on the quality settings, an object can be scanned in as little as 15 minutes, with a scan resolution of 100 microns and a texture resolution of 5 megapixels, which rivals most entry level digital cameras. You also get 2 560 nanometer lasers with extended focus depth, a 5 megapixel image sensor and a camera with an aspheric lens, which also helps increase depth accuracy and better determine the proportions of the scanned object.
The scanner comes equipped with a high speed USB 2.0 interface and operates on 12 volts and 1.5 amps, making this scanner extremely power efficient as well, which in turn saves you even more money. Although this scanner is still in its beginning product development phases and we can see a lot of room for improvement, it has a lot of promise and a super low price. We couldn't help but include it in our list of iReviews 2015 best 3D scanners under $1500.
Related YouTube videos:
Embed: <a href="http://3d-printers.ireviews.com/rubicon-3d-review"><img src="http://www1.ireviews.com/images/2015-iReviews-bronze-badge.png" alt="Rubicon 3D iReview"/></a>