Summary rating from user's marks. You can set own marks for this article - just click on stars above and press "Accept".
Accept
3D Digital Corp eScan3D
Price:
$7,795
"Overall, if and/or being efficient and traveling with your scanner is a huge priority for you, you will want to go with eScan3D over competitors in the same price range."
Back to reviews
Visit website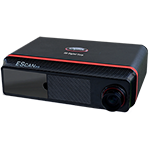 The 3D Digital Corp eScan3D is a quality, high-end portable scanner with a moderately affordable price tag. It offers a very quick scan and produces results that are comparable in quality and accuracy to much higher-priced units.
3D Digital Corp refers to itself as a leader in 3D scanning technology. Our team agrees that they have definitely helped pave the road for innovation in the 3D scanner market. Their reverse-engineered EScan3D is a true force to be reckoned with. Having originally been released in 2008, 3D Digital Corp has improved on their original technology with a second generation which is the version we are reviewing here today. The eScan3D has the advantage of being designed based on field research, as well as extensive customer feedback.
The eScan3D is advertised for use in reverse engineering. A few industries that use this scanner are medical fields, footwear and orthotics, designers, as well as a plethora of other industries with the need for the ability to model an object and then build around it. The beauty of the eScan3D is it could also be handy for the more average user looking to scan and create. Data can be used by any CAD and CAM programs for direct milling, editing, and many other functions. Further, the eScan3D has the ability to produce files in OBI, STL, and VRML formats, making it useful for developers of games, apps, and others who consider themselves 3Ders.
3D Digital Corp includes virtually everything that is needed for reverse engineering in your purchase. A software created especially for 3D Digital Corp's scanners that accomplishes merging and aligning and processing of scans, with ease. The software also process scaling, color and visual features, as well as basic measuring and inspection. Editing tools, such as pop reduction, are part of the software, as well as multiple file type output. Other items included with your scanner are more basic needs, like power and USB cables, and an impressive 1 year limited warranty. The printer also comes with a hard plastic case for protective storage.
The eScan3D is incredibly portable; being that it only weighs about 3.5 lbs, and is suited for indoor and outdoor use. It can be used at virtually any angle and anywhere without sacrificing any of its scanning accuracy. This unit is plug-and-play operable with more recent Windows platforms. 3D Digital Corp's eScan3D is tripod mountable to further the ease of use theme, and an optional rotary table is offered by the manufacturer. This fully automated, two-axis turntable gives you maximum control over your scans by precisely adjusting the object in relation to the scanner. The Rotary Table feature has both manual and fully automatic scan modes. This comes in handy when scanning small, detailed objects such as dental scans, ear molds, rocks, and tooling.
Scanning very large objects is easy and surprisingly accurate. The merging and aligning software that comes with the scanner uses common features for recognition to align and merge scans. What this means is that as long as there is overlap and common features amongst two different scans, you are able to use the automatic alignment feature of the software. If there is not enough crossover or common features present between scans, then markers are placed on the scanned object to help the software merge your large object in the scan. For a more accurate scan, you are offered the Enhanced eScan3D upgrade, which allows you to increase the maximum points per line from 980 to 1920. This allows for more points to be collected and decreases the number of points that are approximated by the system, ultimately equaling a more accurate scan. This Enhanced eScan3D model package includes an advanced lens and higher density CCD array. The advanced lens option will minimize the amount of "noise" in the data, greatly reducing deviation and allowing for cleaner scans.
The eScan3D can be upgraded from the standard base to an extended base. This will increase your overall resolution from 28 microns to 50 microns. It also gets you an increased depth of field of 12' to 26' from the standard 4' to 8'. Most of all other specs are also improved upon even if just slightly.
The thing that perhaps most impressed us here at iReviews is the speed in which eScan3D performs. It easily beat out others we tested in overall scan time. An accurate, high quality scan is achieved in a mind-blowing seven second timeframe. This machine accomplishes what others may take minutes to do.
Overall, if and/or being efficient and traveling with your scanner is a huge priority for you, you will want to go with eScan3D over competitors in the same price range. Their accuracy is stunning and the system has plenty of fine tunable points to capture exactly the image you need. We found their software to also be impressive and easy to use once you establish a basic knowledge of 3D scanning. For the price, you will be hard pressed to find another scanner of the same quality, efficient nature, and portability, and it is definitely worthy of inclusion on our list of iReviews 2015 Best 3D Scanners under $10,000.