Summary rating from user's marks. You can set own marks for this article - just click on stars above and press "Accept".
Accept
Faro Focus 3D X330
Price:
Contact
Pros:
1. Enhanced features optimized for the outdoors
2. Upgraded for longer scanning distances
Cons:
1. Not many extra features to warrant price increase
Back to reviews
Visit website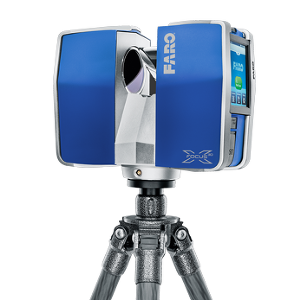 The FARO Focus 3D X330 is a model that is slightly more advanced than the X130, which was at the top of our list of best 3D scanners under $10000. Enhanced features allow for better scanning in outdoor conditions such as sun glare, and maximum scanning distance is increased nearly 3 times, making this scanner extremely effective in a wide variety of applications. In a situation such as an accident scene, where you can't get close to the subjects, the X330 is ideal for accurately capturing those results.
It goes without saying that this class of 3D scanners is not designed or intended for use by home enthusiasts. These are purely for industrial applications and for business use, due to advanced features which, in turn, increase the overall price tag on each model. Although we see reasonable differences between the X130 and X330 models, we aren't sure if the increased price for the upgrades is really worth the investment from a pure return of investment perspective.
With the exception of the increased scan distance of up to 330 meters (compared with a maximum distance of 130 meters on the X130), there is no difference between the models. Even this one difference, however, is significant enough to rate the X330 on this list, as it is one of the best scanners we could find in this class.
The X330 also has one of the best view fields we have seen, at 300 degrees horizontal and 360 degrees vertical. This is both incredible and necessary for any tripod mounted scanner that is required to fulfil its intended purpose, which is one of the things that are so great about this model. They managed to accomplish something that few others have been able to attain, a 3D scanner that can remain stationary, yet pick up such a wide range of data, from so far away, with such accurate and fast result.
With this, they have accomplished that extra dimension of convenience, which is increasingly important in an industry where more people are wearing many hats and specialized personnel aren't as easy to find. With a user friendly product such as this, the value is transferred to the business customer by avoiding having to pay wages to a specialist. An assistant with minimal training can have this scanner up and running in minutes without any assistance.
Included in the package are a 70 miopixel camera for capturing a wide palette of colors, the ability to scan up to 976,000 points per second, a Class 1 laser for depth perception, a multi-sensor including GPS, Compass, Height Sensor and Dual Axis Compensator capabilities and a touchscreen control that is easy to use yet intuitive. At only 5.2 kilograms (a little over 11 pounds), the device is also reasonably portable, allowing you to take it with you to just about any field location.
This 3D scanner is truly a winder to behold and we were very impressed by our evaluation of this model, which is why we are happy to include the FARO Focus 3D X330 scanner in our list of iReviews 2015 best 3D scanners under $50000.
Related YouTube videos:
Embed: <a href="http://3d-scanners.ireviews.com/faro-focus-3d-x330-review"><img src="http://www1.ireviews.com/images/2015-iReviews-bronze-badge.png" alt="Faro Focus 3D X330 iReview"/></a>